Yesterdays lecture on the topic of "Benefit and Value concepts" resulted in some quite interesting discussions between Gunnar Wettergren and the participating students. Once again, I failed to join the live lecture due to work and had to make due with the recorded version. It's clear that there's a considerable amount of highly experienced students in the class and I truly appreciate the diversity in our backgrounds.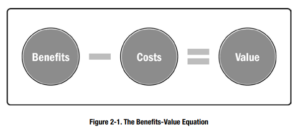 The discussions was mainly focused on the term value. Within the scope of benefits realization management (BRM) the Project Management Institute (PMI) defines value in the benefit-value equation. Personally, I dislike this definition of value – partly because it implies that currency is necessary to derive value – and I was glad to see that my views were represented within the class. I'm not saying that economy isn't important – of course it is – but it's not always the driving factor, especially when you work in the public sector.
Can everything be monetized? Can everything be measured correctly? I doubt that to be true but in defence of the definition, "costs" doesn't necessary mean currency – there are often other types of costs. On the other hand, those costs could probably be measured and monetized.  A poorly designed UI has a cost for the organization and productivity, as an example, can be measured through metrics.
I have a background in IT Infrastructure Library (ITIL) and I like the definition of value used there. In ITIL value is defined as utility and warranty:
Utility (fit for purpose) means that a service or product fulfils the needs of the customer; and
Warranty (fit for use) means that a service or product is available when the user need it.
Normally warranty is said to be measured by availability, capacity, continuity and security but I usually add price as well – If the customer can't afford it, it has no value. With ITIL's definition of value, the product or service continuously need to align itself to the business strategy or loose it's value and ultimately be discontinued.
What do you think? Did you agree with the discussions in the class? Please leave a comment.
http://media.dabi.se/2019/09/budget-for-new-ideas.jpg
1284
1920
David Birath
http://media.dabi.se/2020/01/header-logotype.png
David Birath
2019-09-11 21:13:50
2019-09-25 20:00:26
A better definition of value